---
Due to the ongoing spread of the coronavirus SARS-CoV-2, NamLitCult, like all other academic departments at Saarland University, is now in "restricted functional operation" mode.
You will be able to reach the members of the Department and our teaching staff via e-mail. For general questions, please contact: english_department [at] uni-saarland.de, for NamLitCult-specific questions please write to amerikanistik [at] mx.uni-saarland.de. Office hours are being held on MS Teams.
Please check out our Corona news page on the departmental website to get all updates concering our department's operations during the coronavirus pandemic.
Please stay healthy and safe!
Prof. Dr. Astrid M. Fellner
---
The Call for Applications for our Master's Degree in Border Studies this fall is open!
The year is 2021. The entire world is struggling with COVID-19. Mobility has been limited and borders have been closed (again). Well, not entirely... A small group of indomitable academics in the border region of France, Germany, and Luxemburg still holds out against the current divisive rebordering trends, offering a joint Master's program in Border Studies (MABS). The magic potion we brew for you will provide you with the skills needed in international cooperation and cross-border work also during and after corona. The interdisciplinary formula of the MABS will help you understand the social, cultural, political, and economic challenges of border regions and cross-border cooperations. You will gain theoretical knowledge of border problems, border cultures, border literatures, and constructions of "otherness," following either the spatial track or focusing on the linguistic and cultural track.
We are still accepting applications for our trinational, trilingual MA Border Studies 2021 program!
Our Master in Border Studies is a two-year joint international study program, which addresses the complex economic, political, social and cultural issues of borders and of border regions in Europe and beyond.
The study program is designed for students with different disciplinary backgrounds who wish to develop the necessary skills and competencies to work in intercultural and cross-border settings.

The multilingual study program is located in three countries at four different universities:
• University of Luxembourg (LUX)
• University of Lorraine (FR)
• Saarland University (DE)
• University of Kaiserslautern (DE)

For more info, see: http://master.borderstudies.org

In order to apply at Saarland U, go to:
https://www.uni-saarland.de/studium/angebot/master/border-studies.html

For more info, you can also contact Prof. Dr. Astrid M. Fellner and Prof. Dr. Peter Dörrenbächer at ma_border_studies[at]uni-saarland.de
UniGR-CBS Borders in Perspective Vol. 4: Bordering in Pandemic Times
In the course of the COVID-19 pandemic, borders have become relevant (again) in political action and in people's everyday lives within a very short time. This was especially true for the inhabitants of border regions, whose cross-border life worlds were suddenly irritated by closed borders and police controls. However, the COVID-19 pandemic also led to an increased evidence of social, cultural, eco-nomic, health and mobility boundaries beyond national borders.
The authors of this new issue of "UniGR-CBS Borders in Perspective" shed light on these dynamics from the perspective of territorial borders, social boundaries, and (dis)continuities in border regions through a variety of thematic and spatial approaches. Their critical observations and scientific comments were made during the lockdown in April and May 2020 and provide insights into the events during the global pandemic.
Bibliographic information and download
Christian Wille and Rebekka Kanesu (Eds.) (2020): Bordering in Pandemic Times. Insights into the COVID-19 Lockdown. Borders in Perspective, Vol. 4, UniGR-Center for Border Studies, DOI: https://doi.org/10.25353/ubtr-xxxx-b825-a20b
Contents (excerpt):
• Linguistic rebordering: Constructing COVID-19 as an external threat (Eva Nossem)
• "What's Home Gotta Do With It?" Reflections on Homing, Bordering, and Social Distancing in COVID-19 Times (Astrid M. Fellner)
Online Event for Prospective Students
Live Chat - Master in Border Studies
June 4, 2020 - 11:00 am CET
in English, German, and French
live on Zoom: https://bit.ly/2XqFf4l
Borders are now more important than ever. Why not study Border Studies?! Join us online to find out more about our trinational & trilingual Masters in Border Studies. Here is your opportunity to talk to your future teachers who will tell you about our unique program and answer any questions you may have.
For further information see http://www.uni-gr.eu/en/Master_Border_Studies.
The deadline for application for the Master in Border Studies is June 18, 2020.
NamLitCult Guest Lecture, in cooperation with UniGR-Center for Border Studies
Yosimar Reyes
"We Never Needed Documents To Thrive"
May 22nd, 2020 - 18-20 pm CET
live on Zoom, click here to register
Yosimar Reyes is a nationally-acclaimed Poet and Public Speaker. Born in Guerrero, Mexico, and raised in Eastside San Jose, Reyes explores the themes of migration and sexuality in his work. The Advocate named Reyes one of "13 LGBT Latinos Changing the World" and Remezcla included Reyes on their list of "10 Up And Coming Latinx Poets You Need To Know." His first collection of poetry, For Colored Boys Who Speak Softly… was self-published after a collaboration with the legendary Carlos Santana. He is a LAMBDA Literary Fellow as well as the recipient of the Undocupoets Fellowship. Reyes previously served as Artist-in-Residence at the media and culture organization, Define American. Reyes has toured and presented at university campuses across the United States. He is currently working on his one-man show, "Prieto," to premiere in the near future. Reyes holds a B.A in Creative Writing from San Francisco State University.
The Chair of North American Literary and Cultural Studies at Saarland University is on twitter!
You find us at @NamLitCult.
CfP "Enlightenment as a 'Battle Term'"
The working group "Enlightenment" seeks proposals for their interdisciplinary conference "ENLIGHTENMENT AS A 'BATTLE TERM': Intellectual strategies and transcultural controversies" to be held on 30 September - 02 October 2020 at Saarland University.
Please send an abstract (German, English or French) for a 25-minute presentation (max. 1 page) and a short scientific CV by 5 April 2020 to:
j.birgfeld(at)mx.uni-saarland.de
stephanie.catani(at)uni-saarland.de
a.conrad(at)mx.uni-saarland.de.
Starting from the Age of the European Enlightenment in the 18th century, the conference aims to examine and connect discourses and practices of the Enlightenment in different disciplines and fields of investigation up to the present day. We welcome contributions that examine literary texts, media strategies or historical events from the perspective of literary studies, theology, history, media theory, and/or cultural studies and with regard to the context of debates on concepts and practices of the Enlightenment.
The conference deliberately focuses on the 'Enlightenment' as a battle term and thus draws attention to the question of how the idea of Enlightenment as well as the language and metaphors associated with it have been used to enforce or combat certain concepts, structures, and practices. In this way, the conference helps to build bridges to current debates, because the international and transcultural significance of the concept of Enlightenment becomes clear precisely at the moment in which it is transferred into a contemporary discourse that renegotiates human self-responsibility in the 21st century and once again raises the question of the "dialectic of Enlightenment" (following Max Horkheimer and Theodor W. Adorno).
Click here for full CfP

... who participated, who helped, and who - in one way or the other - contributed to the success of
Intersections 2019 - Stonewall 50: Getting out of the Gender and Sexuality Box
12-30 June 2019
Film screenings, talks, lectures, workshops, and a performance!
For more infos see intersections-sb.de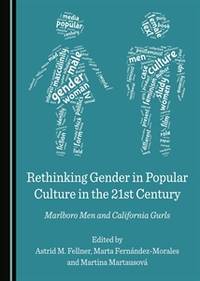 Rethinking Gender in Popular Culture in the 21st Century: Marlboro Men and California Gurls
Edited by Astrid M. Fellner, Marta Fernández-Morales and Martina Martausová
Newcastle upon Tyne: Cambridge Scholars Publishing, 2017.
This book explores popular culture representations of gender, offering a rich and accessible discussion of masculinities and femininities in 21st-century popular media. It brings together contributors from various European countries to investigate the workings of gender in contemporary pop culture products in a brave, original, and rigorous way.
This volume is both an academic proposal and an exercise of commitment to a serious analysis of some of the media that influence us most in our everyday lives. Representation matters, and the position we take as viewers or consumers during reception matters even more.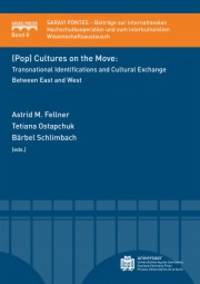 (Pop-) Cultures on the Move: Transnational Identifications and Cultural Exchange Between East and West.
Ed. by Astrid M. Fellner, Tetiana Ostapchuk and Bärbel Schlimbach
Saarbrücken: Universaar, 2018.
This collection examines how the signifier 'America' functions as an intermediary in the production of transnational identities and analyzes how different forms of cultural exchange between 'East' and 'West' are constituted in literary and cultural texts. In particular, the essays investigate the transnational flow of cultural texts, analyzing how, by whom, and to what purposes and effects (pop)cultural practices have been appropriated and transferred to local contexts and how the significance of place, especially the category of the national, has changed in the process. Analyzing various spaces of cultural transmission, the articles focus on patterns of movement and the flows of culture in order to approximate the question of whether the dialogue with 'America' in the 21st century still plays a vital role in the production of 'European' identities. What specific role does the flexibility and adaptability of the signifier 'American' play in this intermediary function of American culture? This book therefore gauges the potential and the limits of 'American' culture as a third term that can 'other' both national and European traditions (for identification or dis-identification) and can serve to reconstruct and to transgress national cultural identities.